Links I Love
I get a little lost in the land of links, hopping from here to there. Here are some of the ones I linger on a little longer.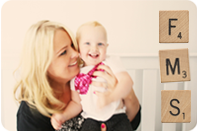 Fat Mum Slim was one of the first Mummy Blogs I stumbled across  & I haven't missed a post since!
Maxabella loves… seems to read my mind with her thoughtful and honest posts. Love, love, love!
Ah, the Possibilities!  Where positivity oozes out of the screen
Great Fun 4 Kids – a great read & awesome photos!
Super Organiser Mum - keeping my chaos to acceptable levels.
Seven Cherubs - for all sorts of amazing inspiration.
Domesblissity - for great recipes and place that feels like home.
Mummy Bloggers Blog - great tips and info for mummy bloggers (you never would of guessed would you?)
And so many more…
Hi, I'm Née

I live with 3 boys, 2 dogs and a cat. My house is a mess and my life is chaos but I wouldn't have it any other way (well a little cleaner & calmer wouldn't hurt!) Welcome to my little corner of the blogosphere...